SEO Company Reviews
As you have landed here, you are presumably looking for SEO company reviews and in need of help or at least a helping hand to point you in the right direction.
As a normal non SEO geek  the whole world of ranking in Google might seem a nightmare with horror stories of SEO companies promising the earth and not being able to deliver even the basics.  With such strong competition in the sector, SEO companies are often able to explain why they are better than another (even if in fact they are not), making it difficult for non-experts to make a truly informed decision.
So we have created this to offer FREE simple advice to people looking for SEO services.
SEO Company Reviews
In order to have a positive effect on your business, an SEO company has to have a handle on their own website first. If you hear about a company having dropped a domain name or changed their website URL then alarm bells should be going off.
If a company has advertising, branding, printed stationary and more they will have the website URL all over the place; this is something that you do not ever want to change due to the high cost of changing all of these elements.
So why would a company change a website URL?
An SEO company would only change their website URL as a result of a penalty enforced by Google, which means that their SEO methods are unethical and therefore unsuccessful. The SEO industry is the most competitive in terms of achieving top results as in order to win clients' trust,  SEO companies should know how to achieve page one results for their own sites. This is what they sell to you; how they can make a change to your company and increase sales by improving Google rankings.
SEO Company Rankings
If you are looking at an SEO company, they should have rankings for keywords and traffic in their sector. If they have to use Google Adwords to be found then there is something wrong.
We would also recommend that you monitor the SEO company you are working with or are looking to work with due to the fact that if they drop suddenly in rankings this is going to be a problem with their SEO strategy; therefore your website is likely to follow.
Why Does an SEO company suddenly drop in ranking?
As Google change the algorithm, they change the detection methods for people cheating and change the goal posts in order to rank. These Google changes are a nightmare for SEO companies as there is often no indication of what the updates will be prior to the event, therefore the strategy that they are using which is giving results may change to be negative overnight.
How to choose an SEO Company
Choosing an SEO company is becoming easier because Google have caused so many problems in the SEO industry that many of the poor ones have dropped. You will struggle to find bad SEO companies unless they cold call you or use Google Adwords.
Due to Google making so many changes over 2012 and 2013 it is easy to use a FREE Professional SEO Software for Search and Marketing Professionals like SEM Rush and compare the SEO using research over this period.
On the 14th November 2013 we have taken a capture of the information in Google for the 3 main cities London, Birmingham and Manchester.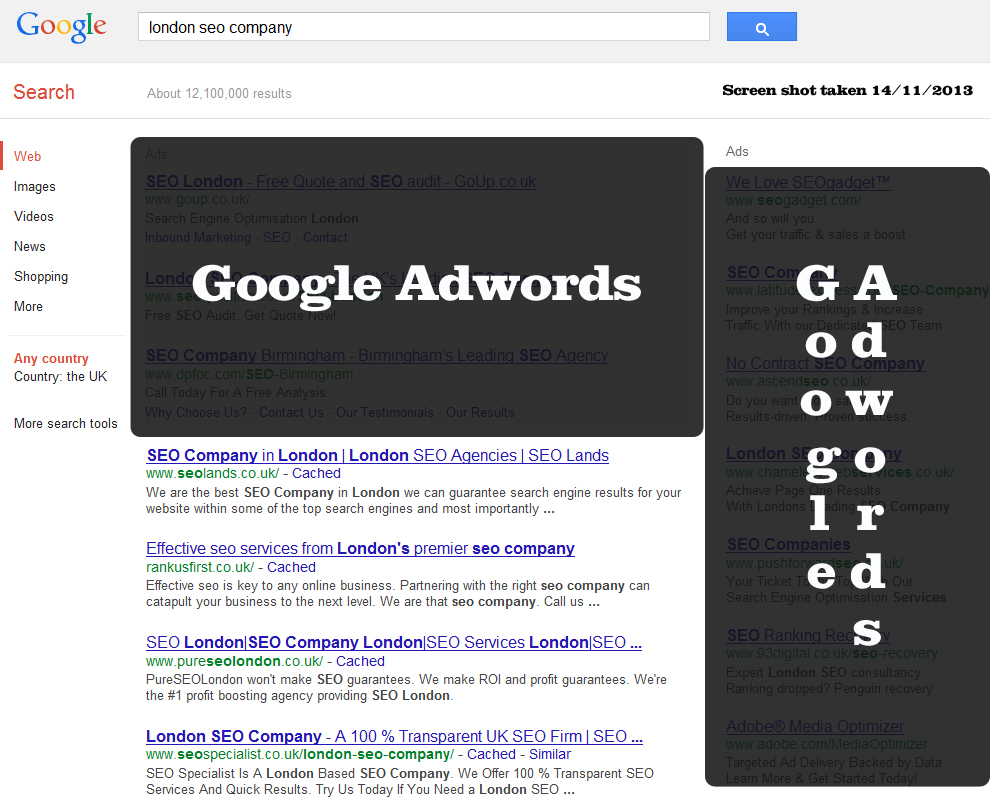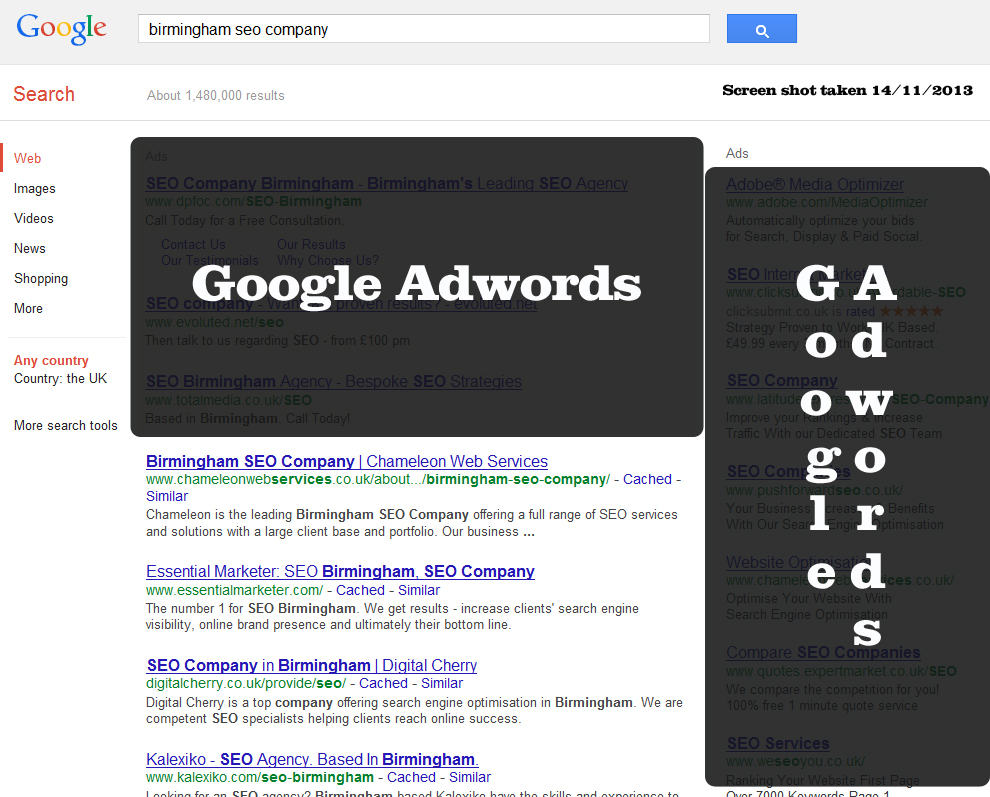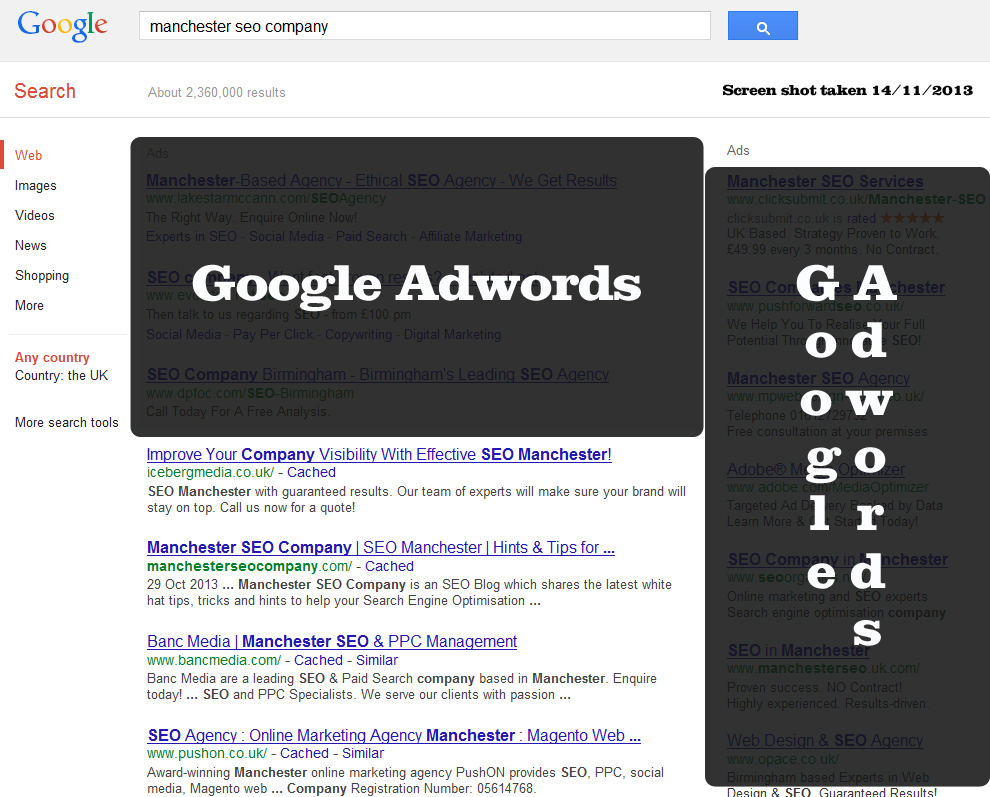 If you want to find out more about how to compare these companies read more about London, Birmingham and Manchester SEO companies by following the links.
London SEO Company
Manchester SEO Company